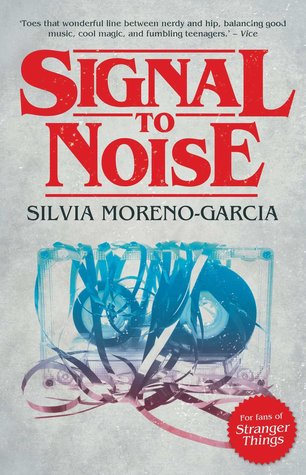 "Magic gets you what you want, but it doesn't solve your problems."
Signal to Noise by Silvia Moreno-Garcia starts out in 2009. Meche returns to a smoggy Mexico City to bury her father. She had sworn never to return here after she had a falling out with her friends years ago.
We then see Meche as a bullied high school student in 1988. Her father is a drunk and her mother is indifferent towards her. Her friend Sebastian, also bullied, is into literature and punk. Her other friend Daniela is a girly girl. She is shy, overweight, and has lupus. The three of them are lower middle class and they're outcasts at school.
Meche's only release is music. We get numerous references to both anglophone and hispanophone records of the time. Her father is a DJ, and her grandmother loves to tell stories about witchcraft, so it seems only natural when Meche discovers that she can perform magic by playing records. As with Moreno-Garcia's later novel, The Beautiful Ones, the supernatural element in Signal to Noise is slight, almost unnecessary to the overall plot.
The novel is mostly told from Meche's point of view. When we get someone else's perspective, it often felt redundant to me. This book is slow-paced at points and I felt many of the short scenes (some of them less than a page long) weren't substantial enough.
My copy of this book said "For fans of Stranger Things" on the cover and I thought to myself, "Is it full of gratuitous eighties nostalgia too?" Yes. Yes it is. Eighties nostalgia is about all it has in common with Stranger Things. Of course, I can't fault the author for something done by the marketing department, and I've got to say it was a brilliant bit of marketing. (Note to self: Compare next book to popular TV series.)
There's one scene in which a character is being sexually assaulted and she doesn't know what to do: "The books she read did not contain scenes like this; they offered no solutions and no maps through this forest." This reminded me of something Mary Robinette Kowal said about people modeling their behavior on books. Authors should include scenes like this to give people scripts to follow if they find themselves in such a situation.
I loved that this book alternated between the past and present. It helped build tension and left me wondering what happened in the past that was so bad. I also loved that all of the characters are flawed. They all felt like real people, which made me wonder if the book might be partly autobiographical. Even though it was a bit slow at times, overall, I liked this book.