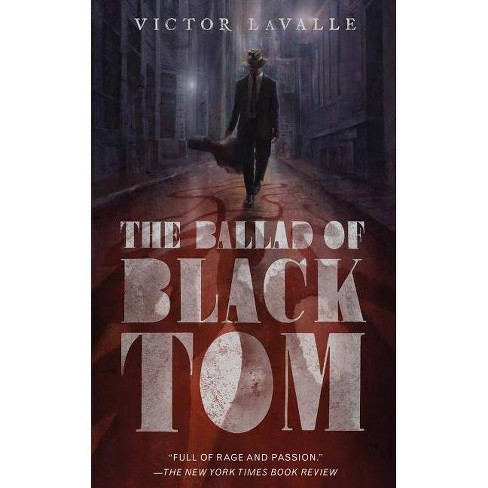 "A fear of cosmic indifference suddenly seemed comical, or downright naive. Tester looked back to Malone and Mr. Howard. Beyond them he saw the police forces at the barricades as they muscled the crowd of Negroes back; he saw the decaying facade of his tenement with new eyes; he saw the patrol cars parked in the middle of the road like three great black hounds waiting to pounce on all these gathered sheep. What was indifference compared to malice? 'Indifference would be such a relief,' Tommy said."
The Ballad of Black Tom is based on H.P. Lovecraft's most racist story, "The Horror at Red Hook", but you don't have to be familiar with it to enjoy this novella. Although, if you are familiar with it, you'll pick up on certain things other readers will miss. LaValle deconstructs several of Lovecraft's ideas, including pointing out that cosmic indifference is far from the worst thing imaginable. Lovecraft himself even makes an unflattering cameo.
"Every time I was around them, they acted like I was a monster. So I said goddamnit, I'll be the worst monster you ever saw!"
It takes place in New York in the 1920s when Model Ts were in. As you'd expect, racism is a prominent theme. Black people are hassled by police, get paid less, aren't protected by the unions, and have to act submissive around whites. There's a particularly infuriating scene in which police shoot an unarmed black man multiple times. I'd like to say the 1920s were a different time, but much of these issues are still with us today.
"I'll take Cthulhu over you devils any day."
The first half is told from the point of view of Tommy Tester, a swindler from Harlem who carries a guitar case around with him even though he's not much of a player. He meets Robert Suydam, who plans to summon Cthulu in order to put an end to racial prejudice. Tommy goes along with him, but is skeptical the plan will work. Even if you destroy everything and start over, there's no reason to think mankind will do anything differently. "Mankind didn't make messes; mankind was the mess."
The second half is told from the point of view of Lovecraft's narrator Detective Malone, although LaValle's version of events is a bit different. This is a fantastic book, even if it makes you mad when you read it. And I'm not the only one who thinks so. There's actually a TV adaptation in the works, so be sure to hurry up and read this one before all your friends are talking about it.